What We Offer
With over 20 years of experience, our skilled and licensed electricians are committed to delivering the best work in Southeastern Michigan.
Dependability
We provide a team of skilled, professional electricians that you can trust. Bova Electric gets the job done right every time, on time! We pride ourselves in quality work that lasts.
Quality
We partner with the best suppliers around to provide all of our customers with top of the line products and materials. We guarantee 100% satisfaction on all jobs.
Support
We believe that peace of mind starts with educating our clients. That's why we offer a free consultation where you can meet with one of our licensed electricians!
About Us
With over two decades of experience servicing residential and commercial customers throughout southeastern Michigan, Bova Electric is a trusted name in the electrical service industry. As a family-owned and operated business, we understand the importance of providing our clients with exceptional value and superior craftsmanship. All our work is backed by Bova Electric's "100% Satisfaction Guarantee."
Let our licensed, insured and experienced professionals take care of all your residential and commercial electrical services. At Bova Electric, no job is too big or too small.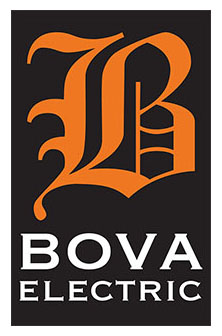 Our Services
From residential rewiring jobs to commercial generator installs, our team will provide you with the quality and reliable electrical services your property needs!
Automatic Back Up Generators
Get peace of mind by installing a Generac generator at your home or business.
Code Corrections
Let us help you make sure your home is up to date with all current codes.
Solar Panel Installations
Beat rising electrical costs by installing solar panels at your home or business.
Surge Protection
Protect your home or business by installing surge protection today.
Check out what some of our clients have to say about Bova Electric!
Oliver Wolcott
Google
I've had the pleasure of working with Bova Electric on a couple occasions. Always professional, timely responses. High quality work and an attention to detail are a couple of the many reasons to work with Brian and his team. Highly recommend!
Maureen Bush
Google
Brian and his crew were polite and professional they did an awesome job. Showed up early, ready to work, got the job done in a timely manner. Cleaned up after themselves. Top notch!! Highly recommend Bova Electric!!
Jim Lovett
Google
Brian and his team are great to work with. Consumers want to work with someone that's reliable, shows up on time, and delivers what they promise. Bova Electric takes great pride in their work and the results show in all of their projects. I recommend Bova Electric to everyone I come in contact with that needs anything electrical.
Get in Touch
Schedule your free consultation today!
Find us at the office
41200 Joy Rd, Plymouth, MI 48170
Give us a ring
Brian Bova
(734) 620-7876
Mon - Sat, 7:30-5:30